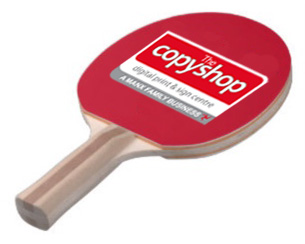 The 2019 Island Table Tennis Championships took place recently at the NSC. Again the Copyshop had success in a number of events. Our A team player Sean Drewry defeated Sam Bayley in the final and won the Island Championship title 4-11, 12-10, 11-6, 11-5. A brilliant win for Sean who has consistently kept the Copyshop at the top of the game for many years. In the closely fought Doubles match Sean was joined by team mate Paul Corran, but lost – by a whisker – in the final set 14-12 to Scott Lewis and Chris Holmes.
The runner up in Group A was Libby Quaggin. She faced fellow Copyshop team mate, Sonia Shaw in a hard fought battle, winning 12-10, 6-11, 11-9, 9-11, 11-9.  In the first semi-final Libby played Becky Bayley, another long battle, with Libby narrowly missing out in the fifth set, 11-6. Libby again featured in the women's Doubles match, this time joined by fellow Copyshop team mate, Kitty Thomas. Unfortunately Libby and Kitty lost out to Kerenza Baker and Khayee Vinas, 9-11, 11-6, 11-8, 11-4.  Libby had a tough and busy day. In the Mixed Doubles she was partnered by Peel's Malcolm Lewis but lost out in the first semi-final.  Eventually success came for Libby. She won the girls under 16's title after beating Copyshop team mate Sonia Shaw in another close five set battle 8-11, 11-6, 13-11, 8-11, 15-13.
After dominating the first Division for many years the A team finished second this year, losing out to rivals Arbory. The C and B teams finished fourth and fifth in Division 2. The E team won the play-offs and move up from fourth to the third Division next season – we are all delighted with their success. The D and F teams pushed hard for a place at the top of their League but missed out this year. They are determined to work hard for promotion next season.
Many, many thanks to the players and captains of the six Copyshop teams, for all their achievements and hard work during the 2018/19 season.  A special mention to Kevin Drewry (C team captain) who has kept ALL the players 'on the ball' throughout the season. No easy task with twenty one players. So it is onwards and upwards for 2019/20 – hoping for continuing success next time.
Gwen Watterson, Copyshop Team Secretary